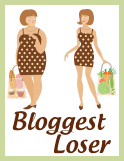 This week was not so good. I was up 1.5 pounds on Wednesday at my weigh in. I planned on getting more consistent with my exercise but I am beginning to feel like I didn't plan very well. I have gotten in one Walk Away The Pounds session and the rest has been heavy house cleaning. I could have done better I think but we will see come Wednesday again. I still have time!
The challenge this past week from my group was to have 2 dairy servings a day and I passed that easily. We also gained two new members and one is my age which I am thrilled about. I haven't had much time to check in with any of the bloggest loser gals this week and I hope they are all doing well. I will be sure to check their posts later. This week I am going to work on killing the soda habit I think I have it all out of the house or I will by the end of today for sure.
Have a healthy week and if you would like to jump on board sign up over at the
Bloggest Loser
.