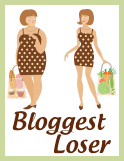 This week for the Sunday Slimdown at The Bloggest Loser we are being asked to answer the following question.
Question: Now that you've had a few weeks...what is your exercise routine? What does it consist of and how often?
My exercise is typically either Wii Active or Walk Away the Pounds DVDs. I tend to exercise at night after the kids go to bed. How often is a bit more sporadic. I sometimes go from 7 days a week sometimes it is only 2. I need to improve on the how often area.
As stated earlier this week I did weigh in .5 down from last week. I am still fighting the weather quite badly with my fibromyalgia and I have been moving more slowly and very achy. We will see where that leads come my weigh in group on Wednesday. Right now I am trying to remain positive but I am not incredibly hopeful.