I was hopping around this morning and found this award that I could grab and give. I just had to be spontaneous (which I am normally not) and do it!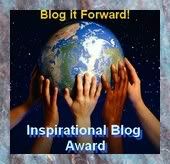 Not only has the blog Smart Cents Mom inspired me but it really comes more from the blogger herself. I "met" Sandy through a state-wide couponing group. We started our blogs very close to the same time and have bounced several ideas, trouble-shooting ideas and blog dreams between the two of us. When things are good or bad with my blog I know I can pick up my phone or hop on my messenger or email and Sandy will not be too far away.

So Sandy, thanks for inspiring me to be a better blogger! I pray your blog dreams come true and you make your stamp on the net! Until we actually get to meet go ahead and "Blog It Forward".